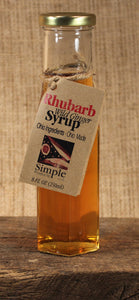 Rhubarb & Wild Ginger Syrup
The crimson stalks of organically grown rhubarb are picked in early spring after they have just awakened from winter sleep. Then off to the woods to dig the precious root of the wild ginger plant that graces our woodland. 
Try it on ice cream, in spritzers or as a glaze for grilled chicken.